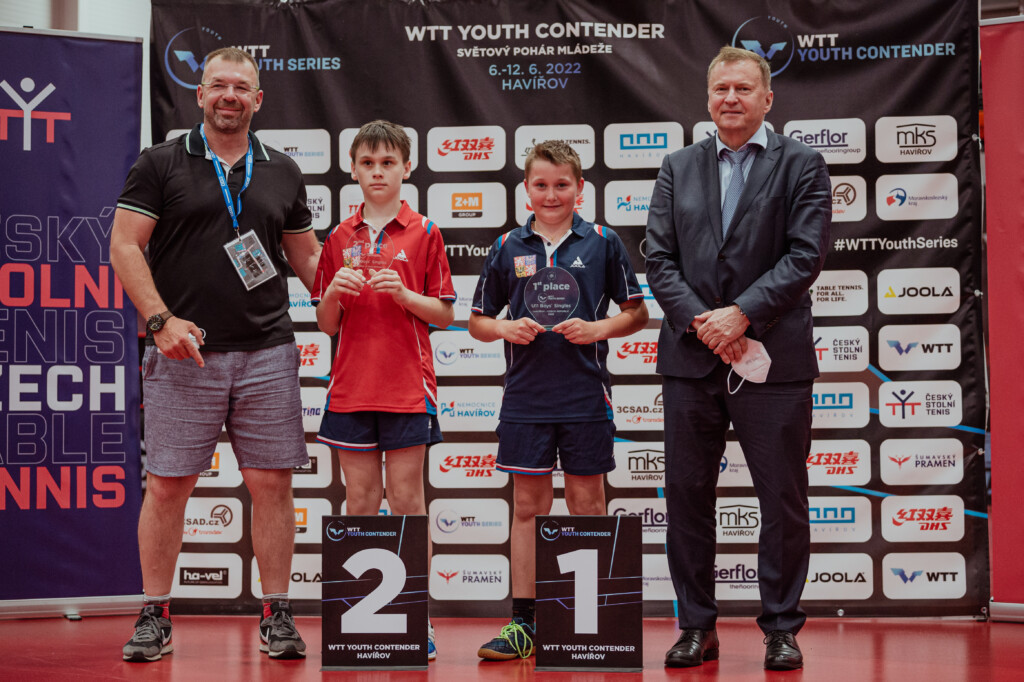 Czech table tennis players earned the first five medals at the WTT Youth Contender in Havířov. Third-place-trophies and plaques for finalists went to boys who played in the youngest categories.
Only five players were featured in the U11 competition. Nevertheless, the knockout stage fights were really prestigious. Tobiáš Fabián was knocked out in the semifinals by his national teammate Oliver Olejník. The other place in the final fell to Ondřej Morávek, who defeated Alexander Malov from Spain.
Both finalists met in the group stages. The happier player back then was Ondřej Morávek. Oliver Olejník finished second in last year's edition. "I was the better player in the final. I was precise and patient and I'm really happy. I'd rather face a foreign player in the final because there would be a coach by my side in that case. But I wasn't nervous since I've had experienced similar tournaments before. I thoroughly enjoyed it," said the winner of the final.
In the U13 category, it was only Jan Škalda and Jakub Kabelka who progressed to the semifinal. However, they couldn't go further and had to be satisfied with a trophy for the third place. Kabelka lost to the eventual winner Shunto Iwaidi from Japan and Škalda was defeated by Mark Gergely from Hungary.
The second day climaxed with the final stages of the U17 tournament. Three Romanians stood in the semifinals against a single Chinese Chen Yuanyu. The Asian firstly got the better of Iulian Chirita and faced Darius Movileanu in the final. He definitely was a favourite since he overcame the top-seeded Romanian in the group stages. But this time it was different. Movileanu was the stronger player in all the set endings and managed to seal the victory.
The decisive duels of boys' categories will begin on Wednesday. The fans can get excited about the U15 and U19 knockout stages.