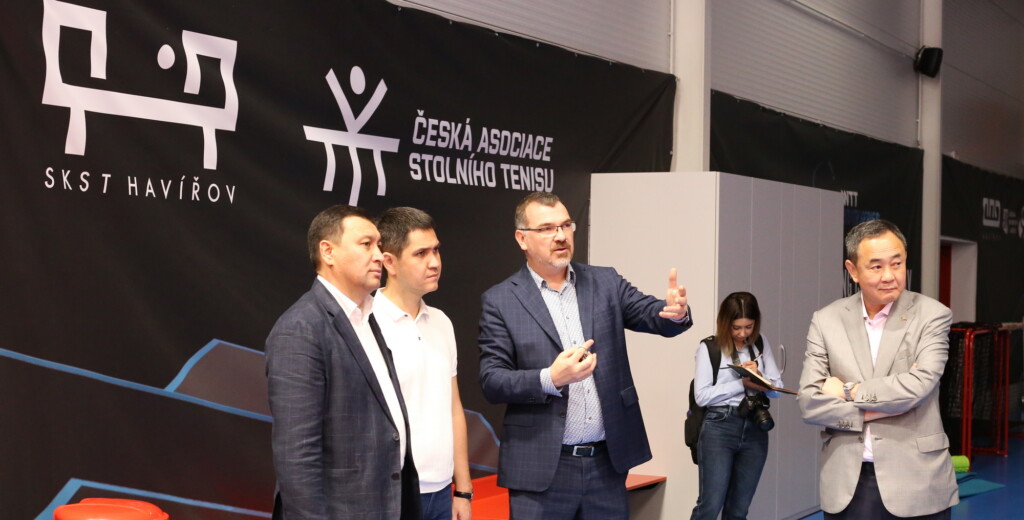 Uzbek Table Tennis Association led by general secretary Sherzod Sharobidinovich Pardayev visited the National Training Centre in Havířov. After a tour of the training centre, the memorandum outlining a partnership between the Czech and Uzbek sides was signed.
Their visit was not a coincidence. At the end of last season, Havířov brought in the number one Uzbek player Zokhid Kernjajev. The Olympian will take part in next season's Czech top division and thanks to his reference, the Uzbek delegation came to see one of the biggest table tennis-specialized halls in Europe.
According to the words of the vice-chairman of the Czech Table Tennis Association Nikolas Endal, every partnership with a foreign country is a plus for Czech table tennis. "Uzbek delegation was mainly interested in our centre. The General secretary asked about the functioning of the Czech Table Tennis Association in terms of league systems, training conditions, etc. I think every partnership of such type is helpful."
The board of the Uzbek association also plans to build a national training centre, so it searches for inspiration in Europe. "They told us they had a look at training centres in Kazakhstan. And I guess Havířov was not the last one of their stops. They were interested in the specifics of the building, the financial side of things and just about everything else."
The topic of discussion was also a register, results system STIS and other specific systems that successfully work for ČAST. "They were positively surprised how it all works for us. They also asked about the education of the coaches, camps, players' preparation and our experience with hosting big tournaments. Their number one player Zokhid Kernjajev is on the same level as our best extraliga players. They're looking for more talents such as their 13-year-old wonder-kid, the world's number four in her category. It's an Asian country which is an advantage and it's maybe just a matter of time until their best players break into the world's elite," adds Nikolas Endal.