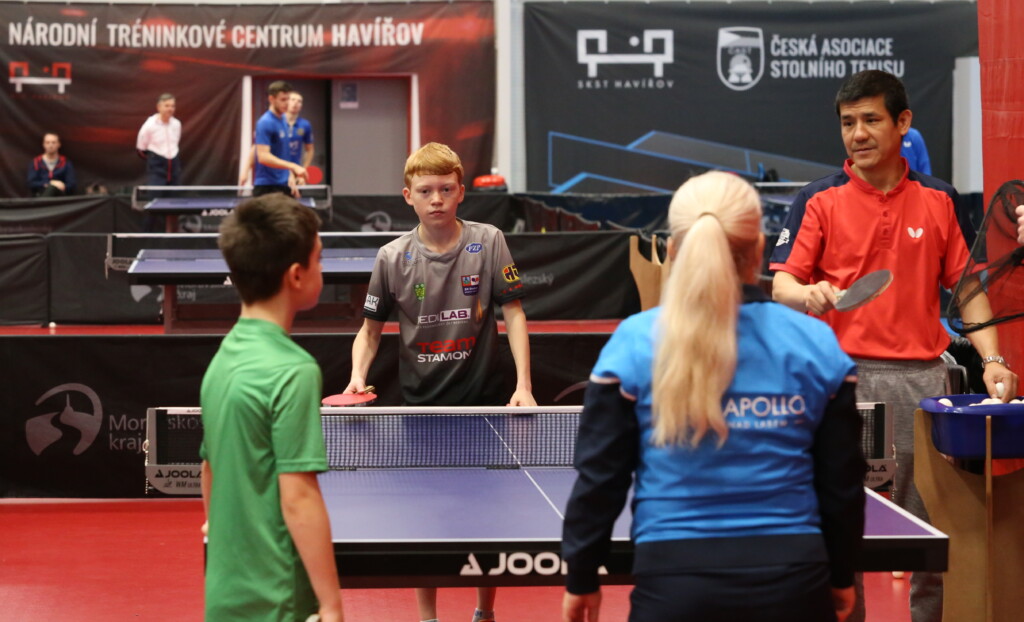 Coaching-Methodical Commission of the Czech Table Tennis Association organised a seminar and a training course for coaches of all licences. The participants had a unique opportunity to take part in a seminar led by experienced coach Zhu Xiaoyong.
According to the words of Marta Novotná, who is the chairman of the Coaching-Methodical Commission, it was a unique chance to find out about new trends in table tennis and so it's no coincidence that the following camp is made for young players. "We have agreed with the national team's coaches, that young players would benefit from Zhu's words and expertise the most. There is a huge potential to change their game and preparation. That's why cadets are training Havířov, along with other talented players from younger categories. Ten boys and seven girls. They'll undertake seven training units in three days."
Zhu Xiaoyong, born in Shanghai, is among the most acknowledged experts in the field of table tennis techniques and tactics. He was a part of the wider national team of China and worked six years in the National Table Tennis Centre in Beijing. In 1991 he came to Europe, where he was a player-coach in various clubs. And he's been the associational coach of Germany's national team. At first, he worked with the youth, from 2010 to 2016 with the men's national team and since 2016 he's been working with juniors.
According to the words of Marta Novotná, the participants learned many novelties. "I think the seminar brought a lot of interesting things. And the coaches, who took part, spoke highly of it. The seminar pointed out multiple important things regarding the differences between the work of Chinese and European coaches, new methods and trends. I think that if our coaches could carry some elements over to the work with young players, they'd be able to really influence their technique. That's why it's really good to have some of the club coaches here with their players."
She showed Zhu Xiaoyong around the National Training Centre and watched his reaction. "He's absolutely stunned by the National Training Centre. He sleeps in one of the rooms right in the hall and says that there is everything a centre should have. He can't get his head around the fact that it was possible to build something like this during these times. He also mentioned that it took 30 years to build similar centre in Germany," added Marta Novotná.